We looked around our community and saw people who were unable to take better jobs, access good food or take their kids to the doctor, all because they lacked one thing—reliable transportation. When we sought to understand why people were driving older, polluting vehicles, we discovered the problem ... and the solution.
On the Road Lending is a 501(c)3 nonprofit organization founded in 2013 that provides vehicle selection assistance and long-term financial mentoring to address a little understood, but substantial problem—providing a way for low-income individuals and families to overcome transportation barriers so they can get to work, lead healthier lives, and avoid predatory lending. We help people improve their credit and purchase fuel-efficient, reliable cars, financing them through our sister private-equity loan fund with a low-cost loan.
Lack of reliable transportation is the number one reason people lose their jobs. On the Road Lending helps people overcome this risk by finding them good cars that are affordable, under warranty and fuel-efficient, so they never have expensive, unforeseen car repair bills. We work with clients to build financial capability and then arrange an affordable loan. We stay with our clients for the life of the loan—usually five or more years—providing financial mentorship and support.
I've really seen some amazing things since I started this company. Without fail, I have seen tears each time I deliver a car. These tears are tears of joy, relief and gratitude. These are families who are amazed that someone would take a chance on them after making mistakes in their lives. I have seen people get raises and promotions because they could get to work on time. I have seen people whose children could go to better schools because their parents could get them there. I have seen families achieve economic mobility and better health. It is more than freedom of time, although that is critically important. I have learned that these families—my friends—love their cars in the same way I love mine.
My best,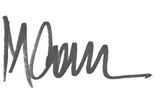 Michelle Corson
On the Road Lending Founder and CEO / Loan Fund Entities Managing Director